The 2015 roar was a shocker, I spent most of it hobbling around on an old re-aggravated knee injury (that a wiser man would have rested) and needless to say not a lot was achieved.  So, as you can imagine, I was planning on putting some serious effort into making 2016 one for the books.
I started off in late March in the Otago high country determined to revisit a few old haunts regardless of what mother nature threw at me.  Super early starts and some serious leg work had me finding stags on DOC land pretty much every mission.  One of these trips found us deep in the tussocks on a perfectly clear morning just as the sun was hitting the ridge-lines, when we heard a stag roaring. We looked around and saw a mature 12 pointer holding a handful of hinds about 350 yards away.
The 12-pointer and his harem 
After a few photos and a quick strategy meeting I got behind the rifle and delivered what can only be described as some shooting I'd rather forget.  Undeservedly, I'd just shot my first stag for the 2016 roar which was a weird feeling; on one hand being stoked to get something good on the ground so early on, but on the other I was disgusted at making such a balls up of shooting him. Guess it was good to get a reminder before the Chamois and Tahr ruts, that you need to get really comfortable behind the rifle and practice more than I had been.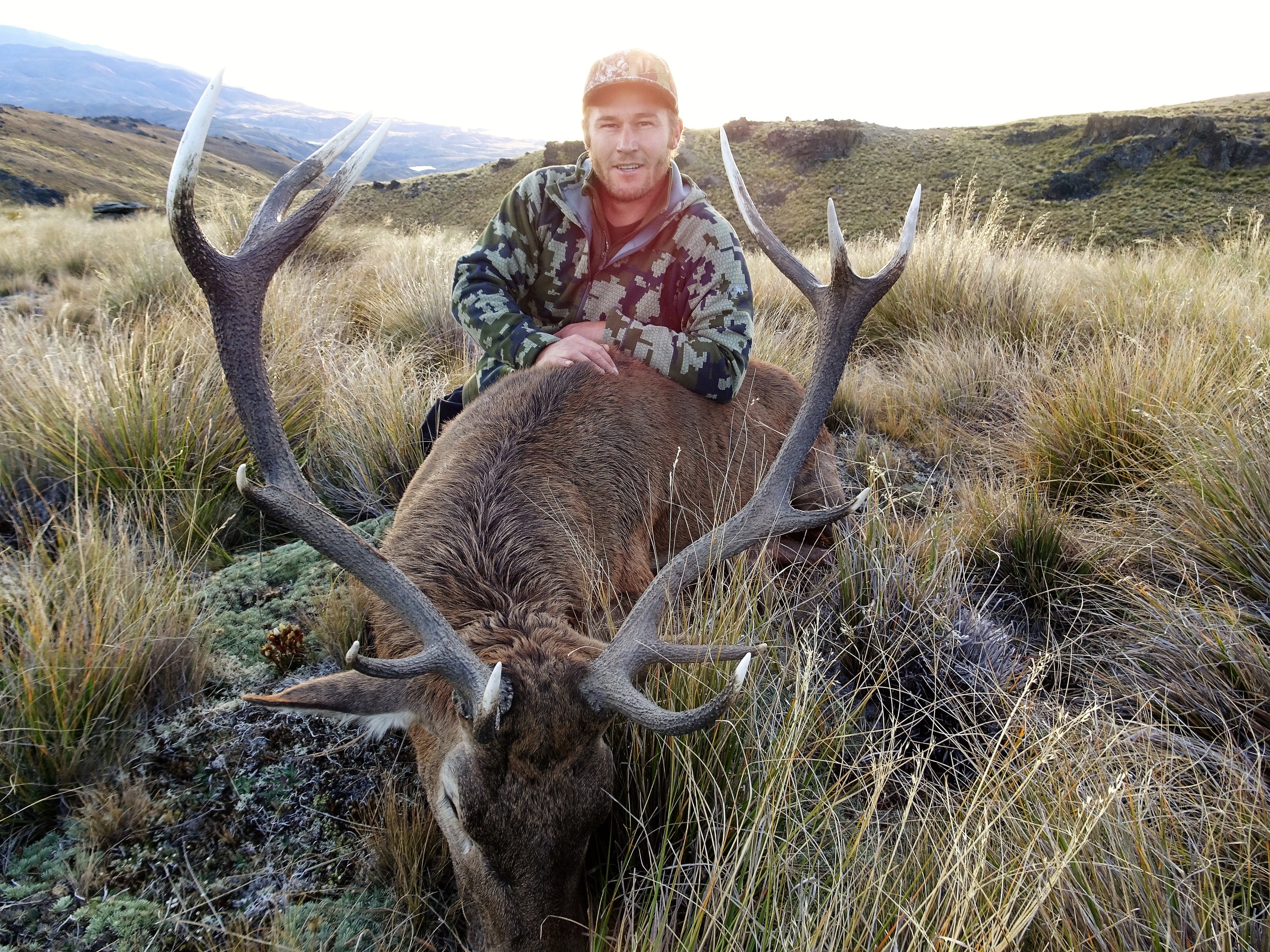 With the pressure now off, the next couple of weeks saw me looking over about 30+ stags, again in all kinds of weather.  The struggle was to find something with some age on it as I was hunting areas that receive quite a bit of pressure. 
A rainy night in the tent followed by a wet morning with the fog rolling in and out saw us in the head basin of one of my favourite valleys struggling to pin point the handful of roars we were hearing and just catching glimpses of stags in the brief clearances of fog.  Only to see a well mature stag about 250 yards away ghost back off into the fog before we could get a chance to get my mate set up on him.
A couple of days later in a nearby valley and in equally bad weather we had our timing about bang on.  On the walk in we had 5 or 6 stags roaring well and had time to asses them and move on.  Not far off dark and in pouring rain we had a mature, but uneven mongrel of a stag, roaring well so my mate headed off up the hill to knock him out of the gene pool. 
Carrying on up the valley in the morning we managed to look over a number of stags - but again nothing with the "age" we were looking for.   We were sitting under an overhung rock out of the rain enjoying watching a 10 point stag with great potential walking along the other side of the valley (a mere 200 yards away), when a volley of shots rang out from just uphill and behind us giving us one hell of a fright and managing only to blow out a front wheel on the stag.  This is on Doc land but to get there this guy had crossed over private land.  Having myself arranged to get in there a couple of months prior,  I was pretty disappointed to see this guy, especially as he'd just shot the only stag we had seen with some serious potential.  We headed back down the valley while this guy went up the hill to fire more shots to finish off the stag.  The farmer was less than pleased and did follow this up, with the result being that this guy had received some confusing information given to him by Doc about accessing the valley.
Moral of the story (could be a few actually!!) is if you want to shoot a big stag then learn to recognise those one's that need another year or two.….Simple.