"Every year we get that May storm cycle, which just so happens to coincide with the start of the Tahr rut"Having just stepped out of a ballot block, this year was no exception.  A dusting of snow, some sun, some gusty wind and maybe 100mm plus of rain.  All this meant that to cover the ground you needed to, you were going to be out in some shit conditions at some point.
We all know that if you can't handle at least a bit of shit weather,  then you're not going to get a hell of a lot done on the West Coast.  Having quality gear is therefore a no brainer.
Do your homework on the specs of the gear you choose to wear, inevitably you'll end up out in average conditions and better performing gear can make a real difference to your comfort levels.
A day of sun followed by 100+mm of rain clearing to a frosty night just on dark, followed by a clear day break degrading to drizzle in a rock biv meant that this stuff actually mattered.
What was ankle deep one day, would have been well over head the next. 
Below is a bit of a photographic essay of our first period trip.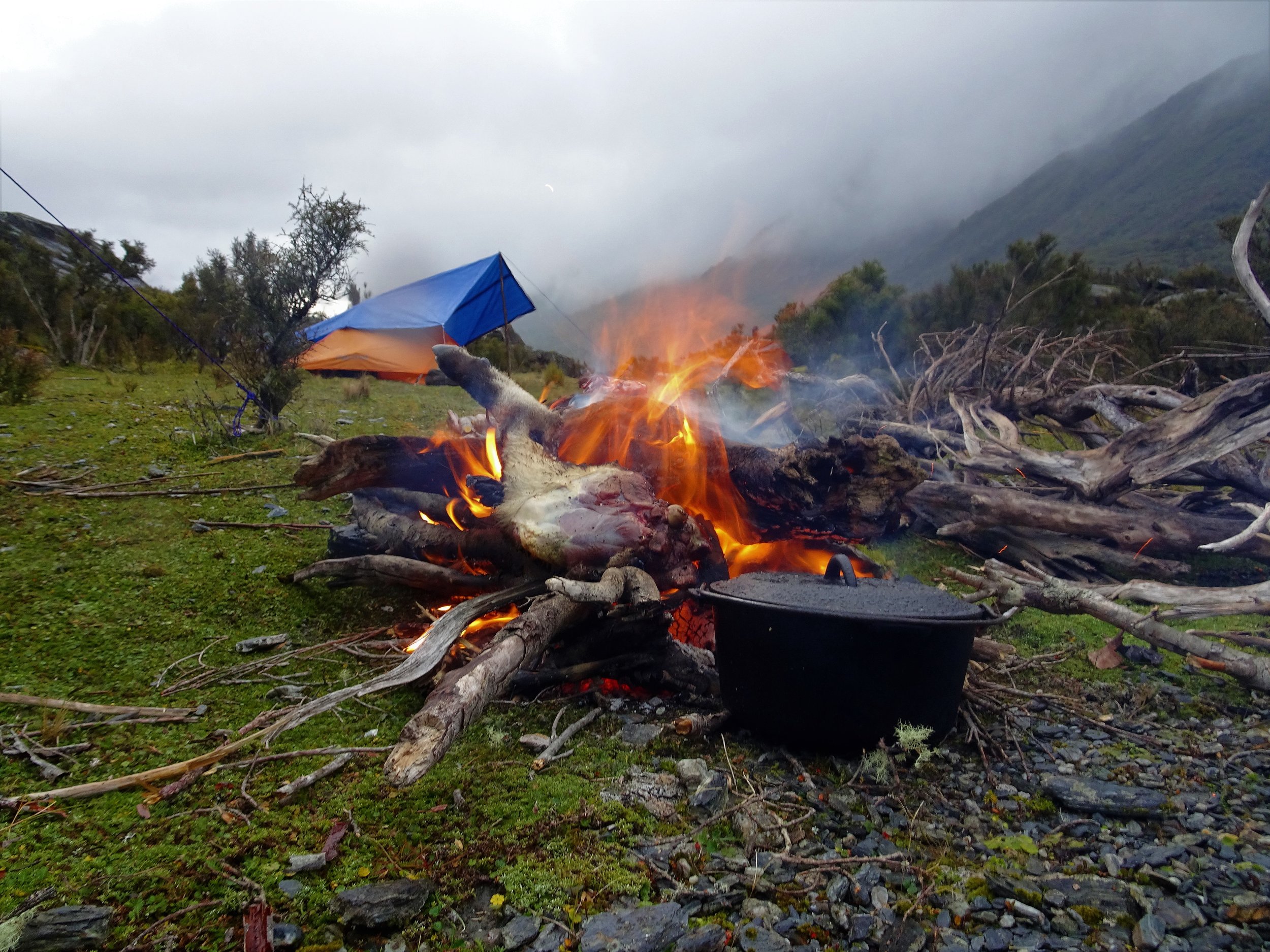 Getting the fire going before the weather set in saw us eating well, with Ewan Blacks tahr two ways. Getting a bit old school Ewan had a boned out leg cooking on a flat rock as well as a leg directly on the fire.
Hunting with a couple of boys who are super selective is both a blessing and a curse.  We all want to get started and get a good animal on the ground, and yes we saw of bunch of good bulls.  Trouble was we were all searching for that big donk, and this early in the rut that big donk was most likely still lying about chewing cud in the scrub.  What we saw was a bunch of 12-13 inch bulls with not quite enough age about them, and far too many females.
Straining the eyes through the spotter constantly and working out which bulls we had seen the day before seemed to be the name of the game.
Early rut is always a gamble.  The bulls usually are not on the nanny's yet, the trade-off being less chance of getting snowed out.  It did take us a bit to find where the bulls were hiding and of course lick our wounds after the spanking we received from Mother Nature.
All in all a seriously good mission even though we only pulled trigger on a handful on unlucky nannies,  and I hate to think how good of a time the boys in the coming weeks are going to have once those bulls really get rutting.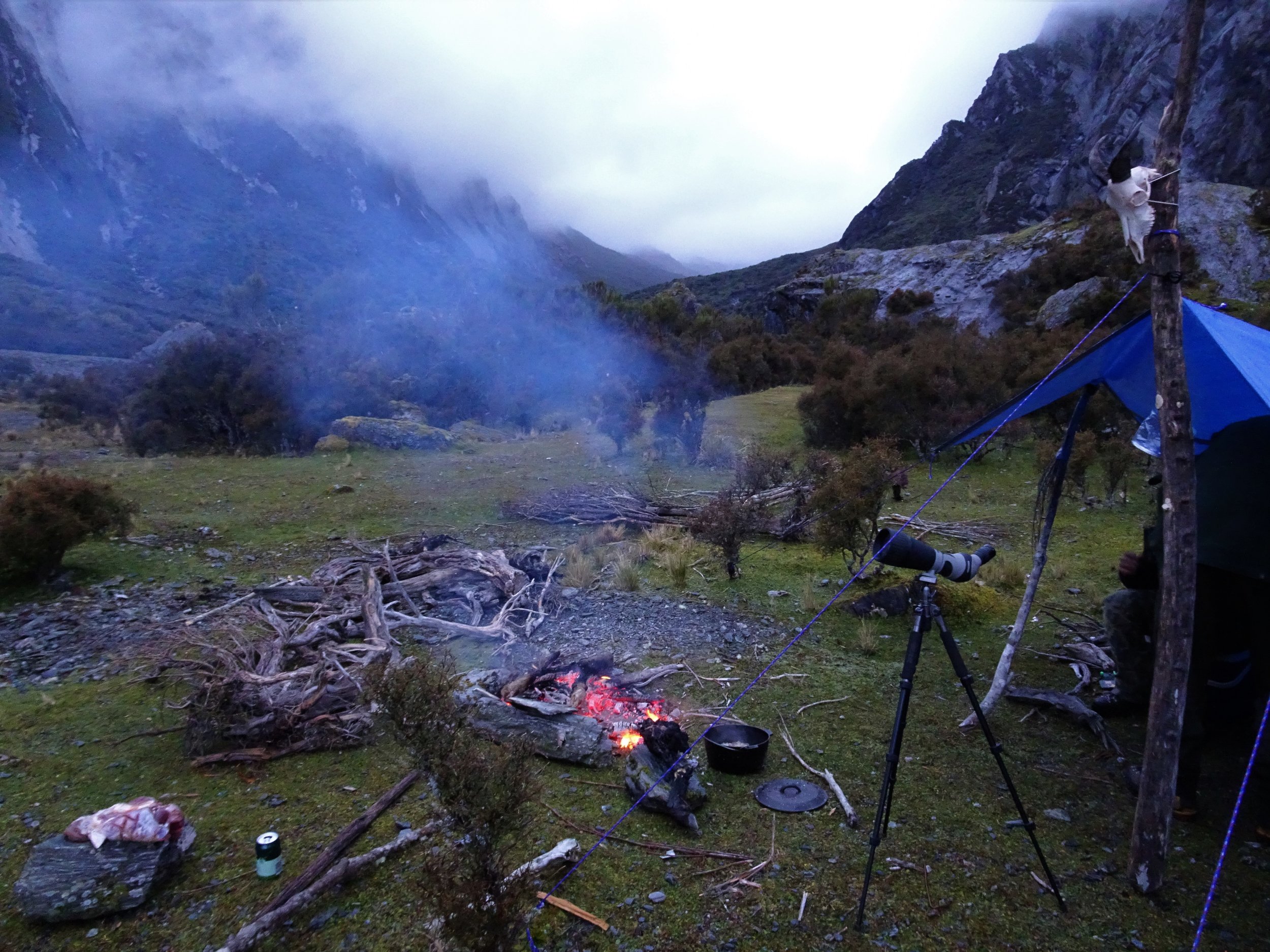 The calm before the storm
The aftermath  
Home for the night, once we had scraped out all the tahr shit and layed down a bunch of ferns.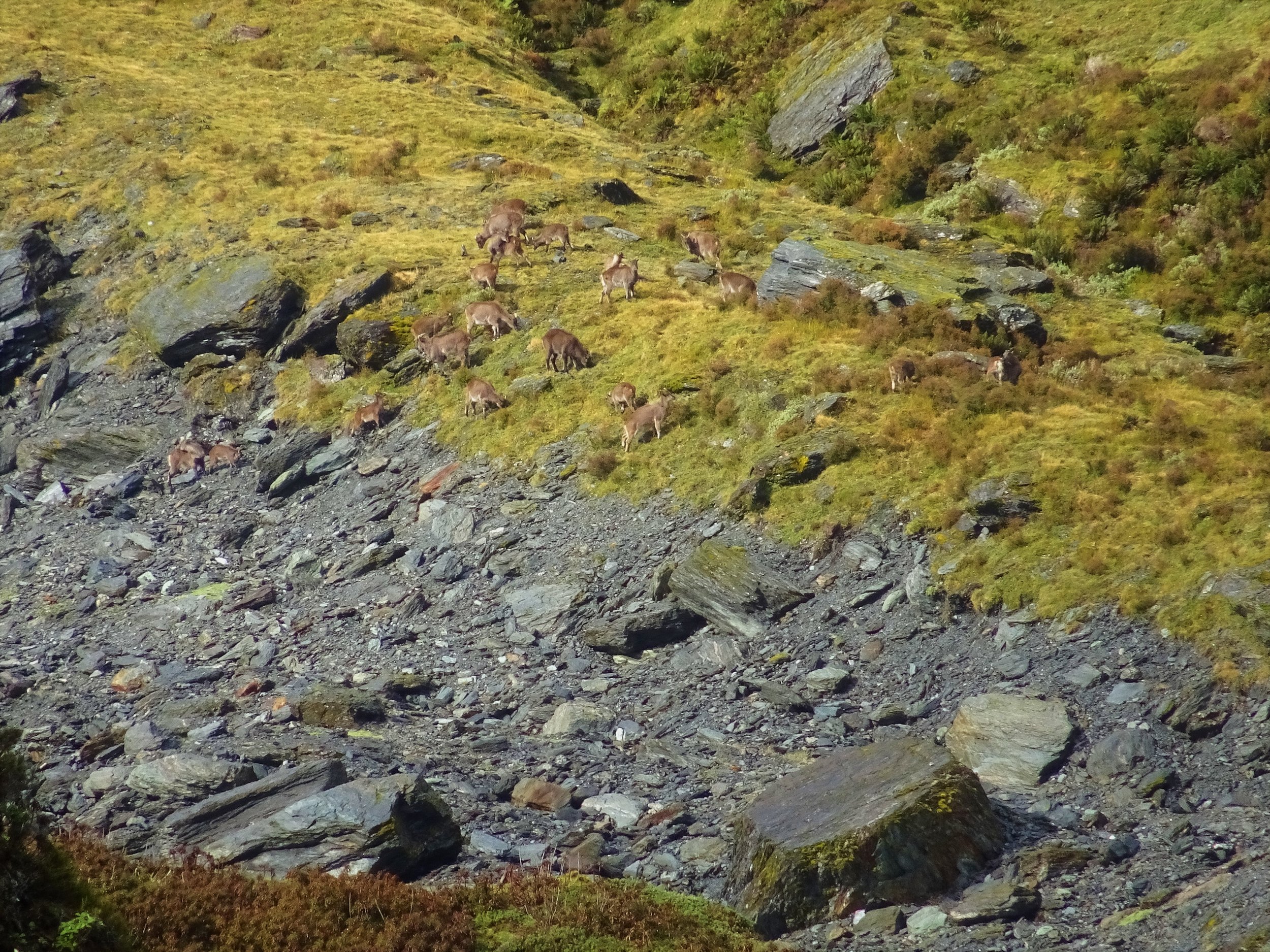 A few good mobs were seen.
 Glassing those brief breaks from being clouded in. 
Things are about to get seriously wet.
A mob of young bulls just starting to think about the rut.
Tahr like a bit of shelter too.