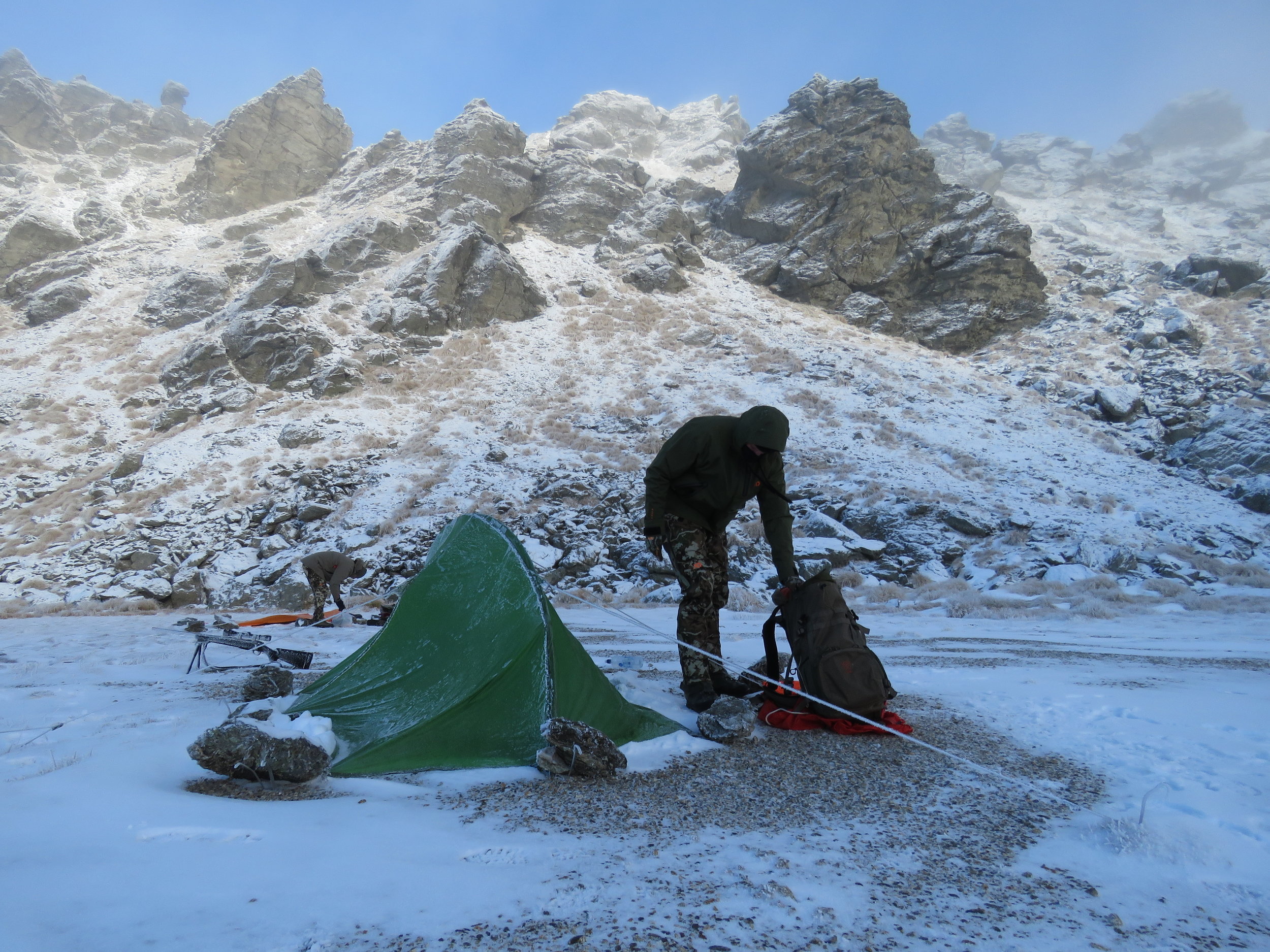 While planning an alpine hunting adventure you can get a bit caught up in the "need a week to do it" mentality. I guess if you are travelling to the Southern Alps from afar it's a bit different to being local, but still a short trip is better than no trip right?
We tested this theory on a last minute winter Chamois hunt where one night was all that could be spared and we weren't disappointed.
Some last minute changes kind of upset my Queens birthday weekend plans so I spent the Thursday evening prior, yakking on the blower looking for someone in a similar predicament. My old hunting mate Chief was that someone and the topic of conversation swung round to Chamois, a creature we hadn't solely targeted for many years.
We figured that we'd probably missed the rut by now but that the winter skins would be prime. We set into our homework, messaging knowledgeable chaps and map trawling and eventually picked a little spot in Otago that was known to have a few mountain antelopes hopping about.
With the limited time there was no option for walking in several hours each way, so we decided to ring a chopper operator and to our surprise the return flights were affordable enough for a couple of middle aged working class blokes. Luckily we had some friends that lived nearby the helicopter operator so we stayed the night there and got our kit sorted.
The key to making the trip successful is that we would have no base gear dump to return to, just hunt with everything we needed on our backs enabling us to keep heading into the wind and be in the game zone right up until darkness set in. We didn't have to get so hung up on food and cooking gear so this stuff was kept pretty minimal, and everything else had to be as light as possible while keeping us as warm as possible.
 The quickest way up the mountain when time is limited. 
The forecast was for a nasty cold Southerly to blast through and our Chamois zone was facing right into the brunt of it so we made sure we carried high quality light weight wet weather wind proof clothing, decent alpine tents, good sleeping bags, thermal inflatable mattresses, plus the hats and gloves and merino base layers, isn't merino awesome! Now top the packs up with bino's, GPS, beacons, cell phones, cameras, tripods and rifles and I think we were about sorted.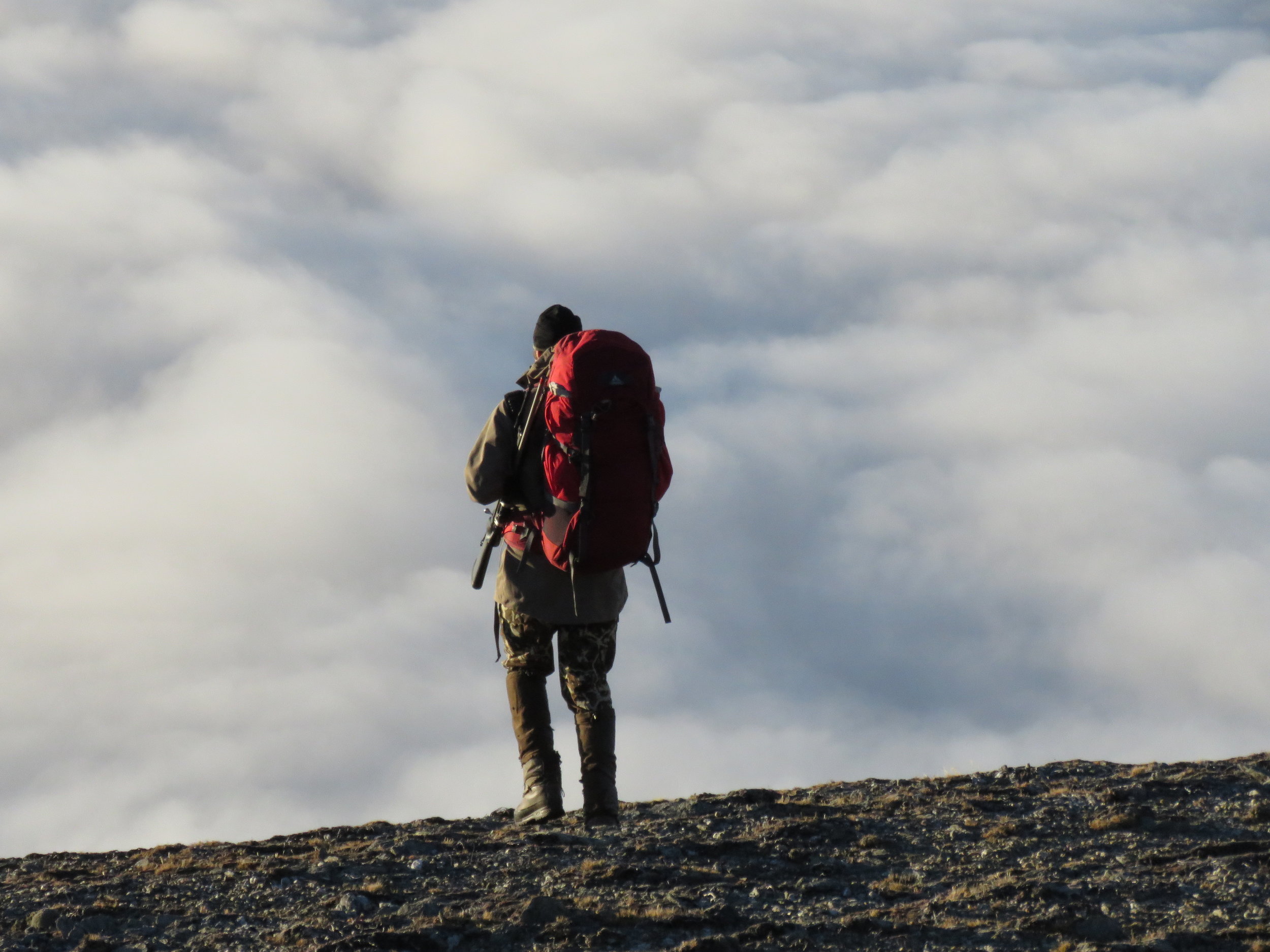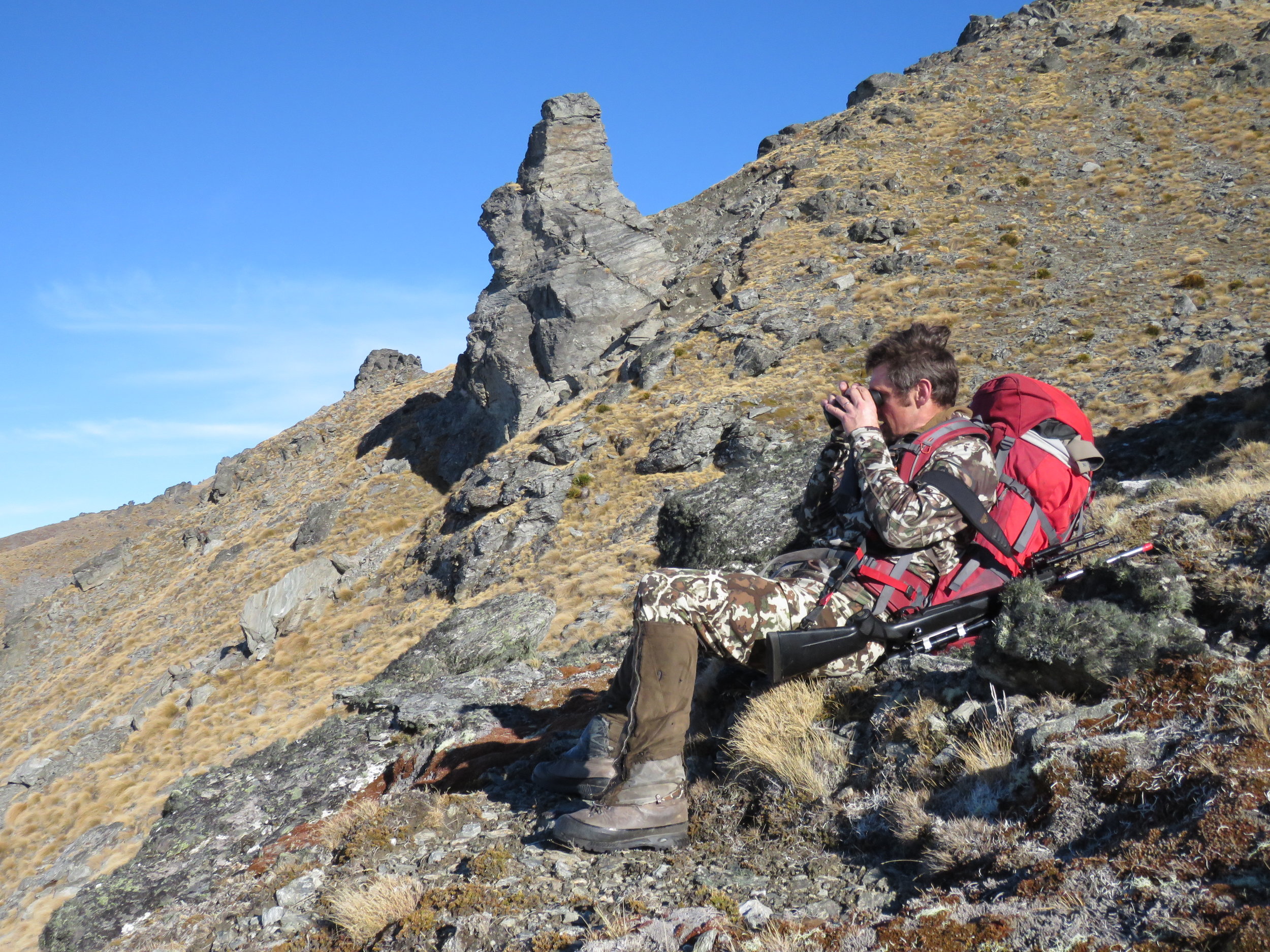 We got the chopper pilot to throw us up onto the Northern end of the range as early as he could get going in the morning and this gave us plenty of time to work our way in to the rocky steep basins we'd seen on the map. The packs were light enough, the breeze direction was perfect and the day was sunny and crisp so spotting the first couple of Chamois early on was just a bonus. They were really black looking, which dramatically contrasted their bright white facial blaze and undercarriage, the winter coats were dazzling! Any that were picking away at the tussock stood out against the grass, but those tucked up in the rocks were a lot harder to pick up. Once we had our eye in we started to see quite a few all in little groups. Closer inspection with the zoom camera revealed that all the animals were does and youngsters and it sure looked like the bucks had completely disappeared!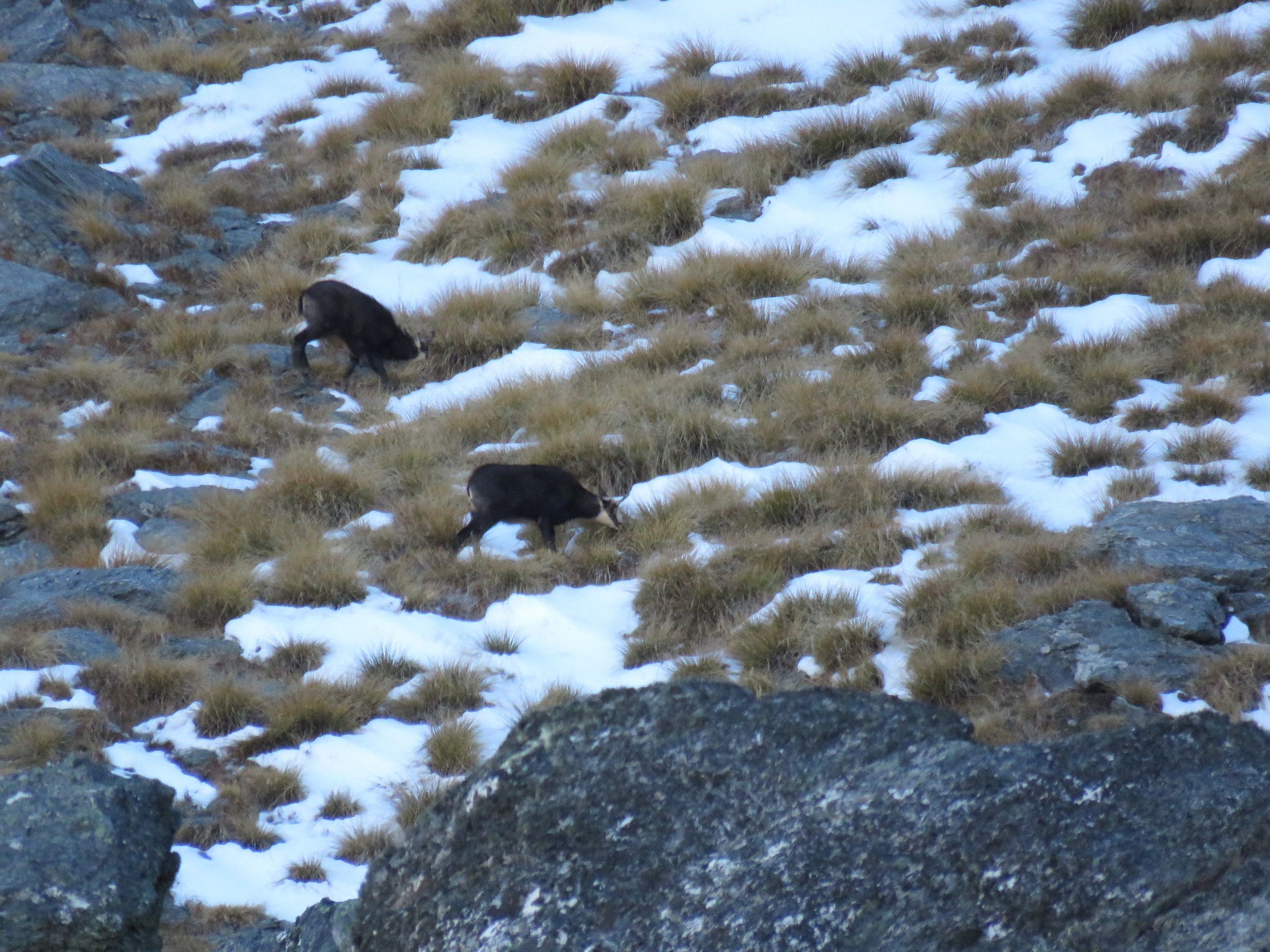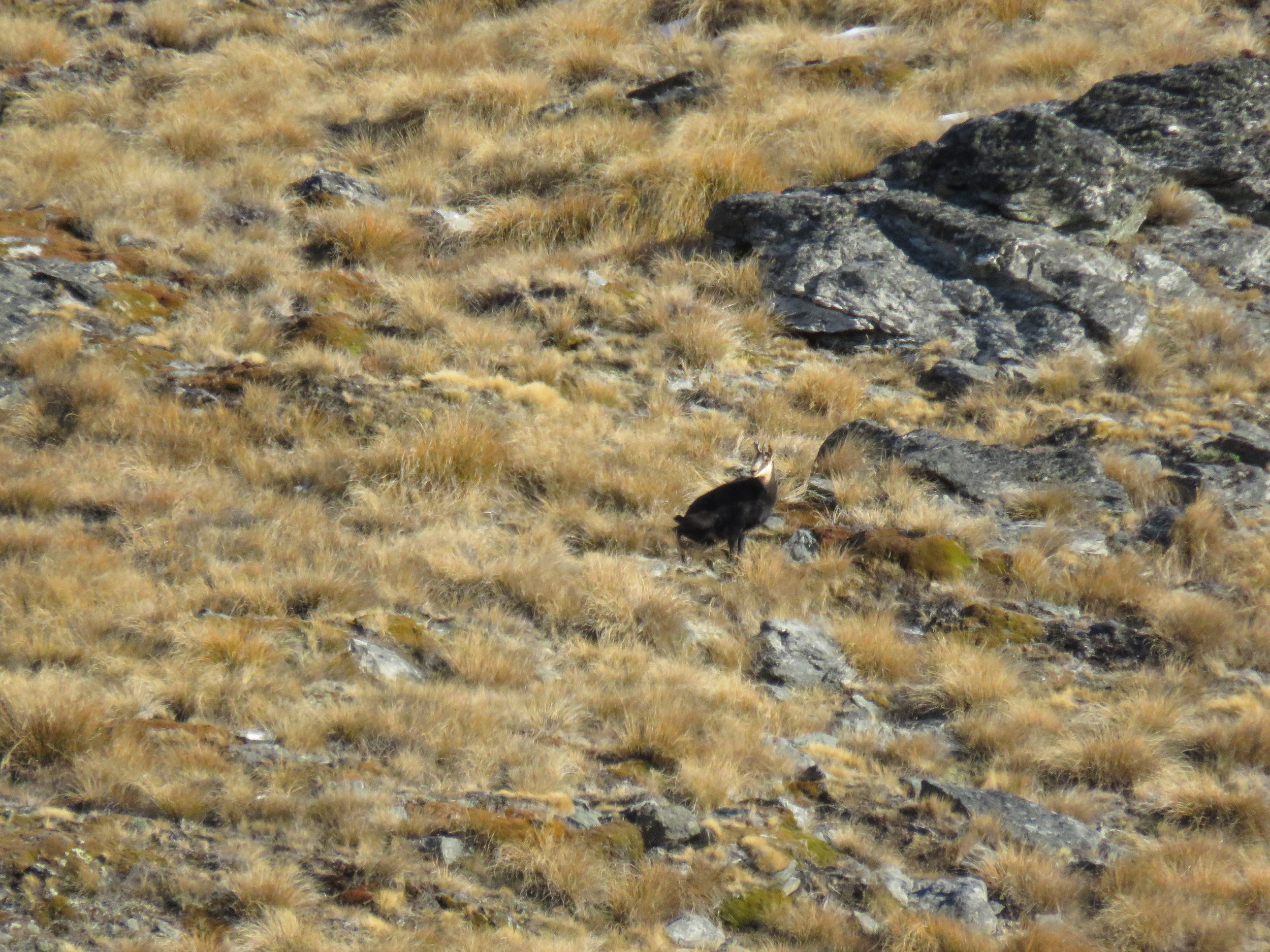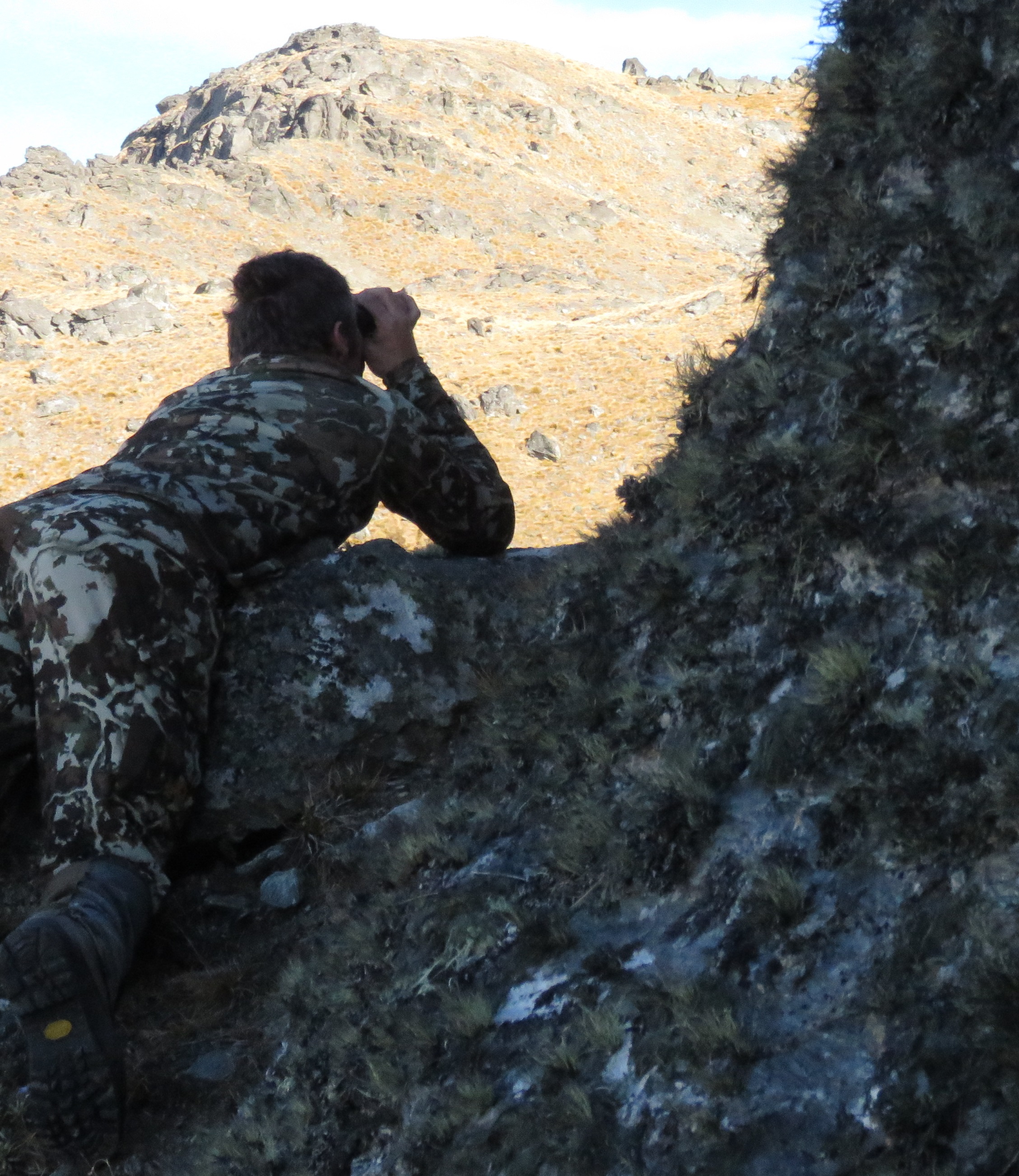 We siddled our way around each ridge to inspect new basins and uncovered several more family groups but nothing worth tipping over. I noticed a lone Chamois further around in a distant basin and ear marked the spot in my mind for checking over when we got there later in the day. The time on the hill was pleasant with a lunch snack in the sun and some Chamois posing for the camera, one group letting us get to within 20 meters. We continued searching each gut as we cut through the faces but still no bucks to be found.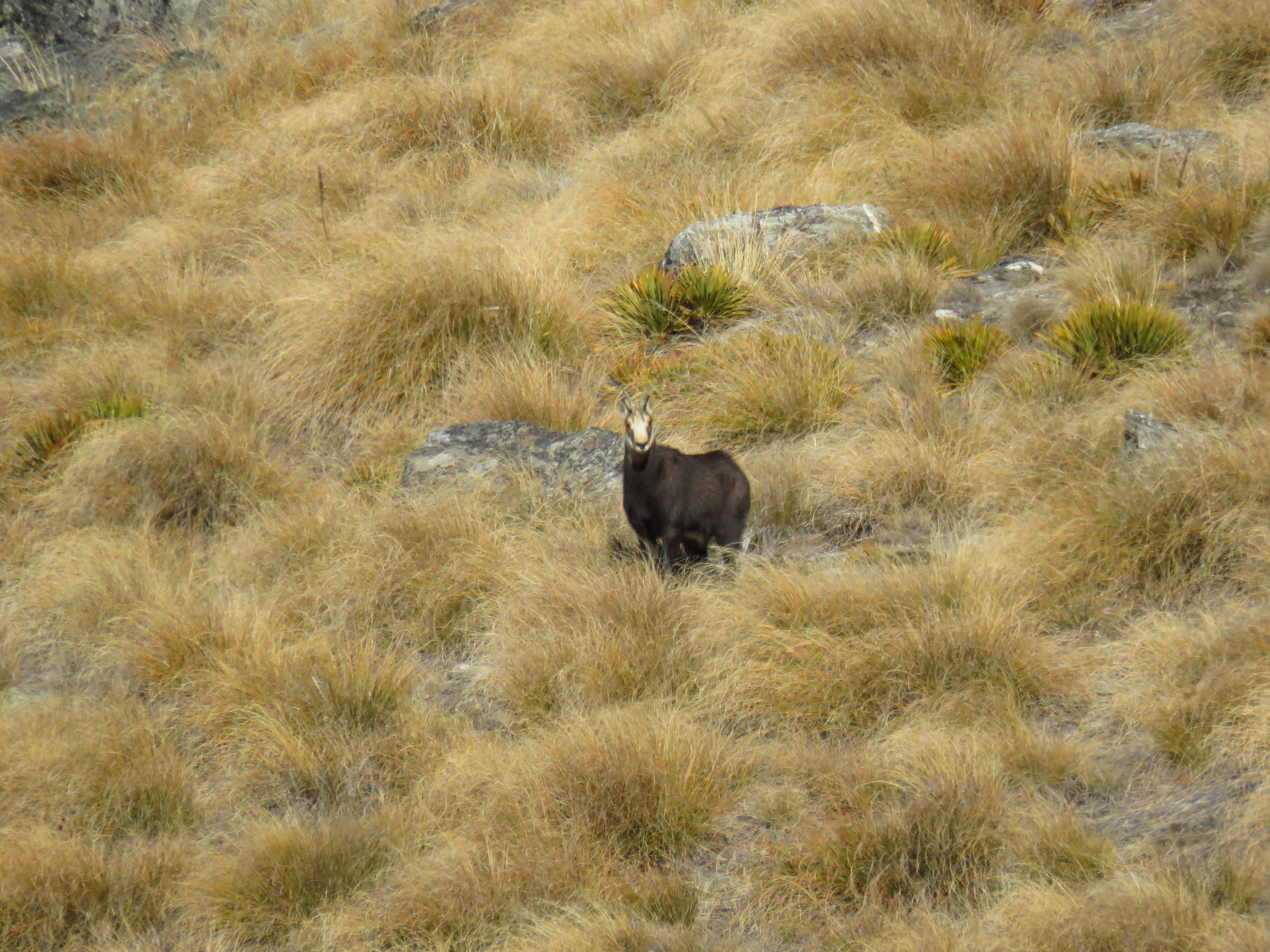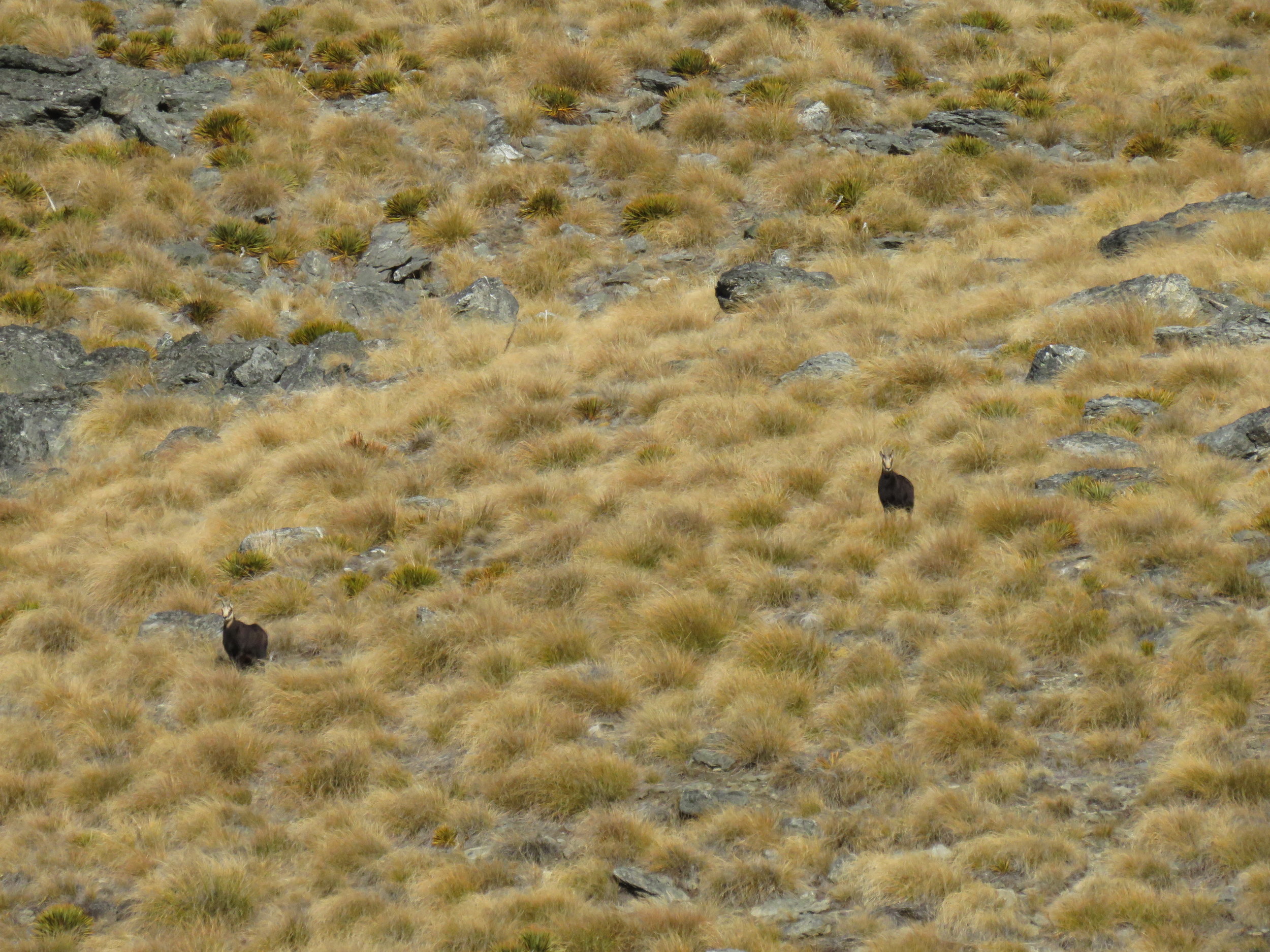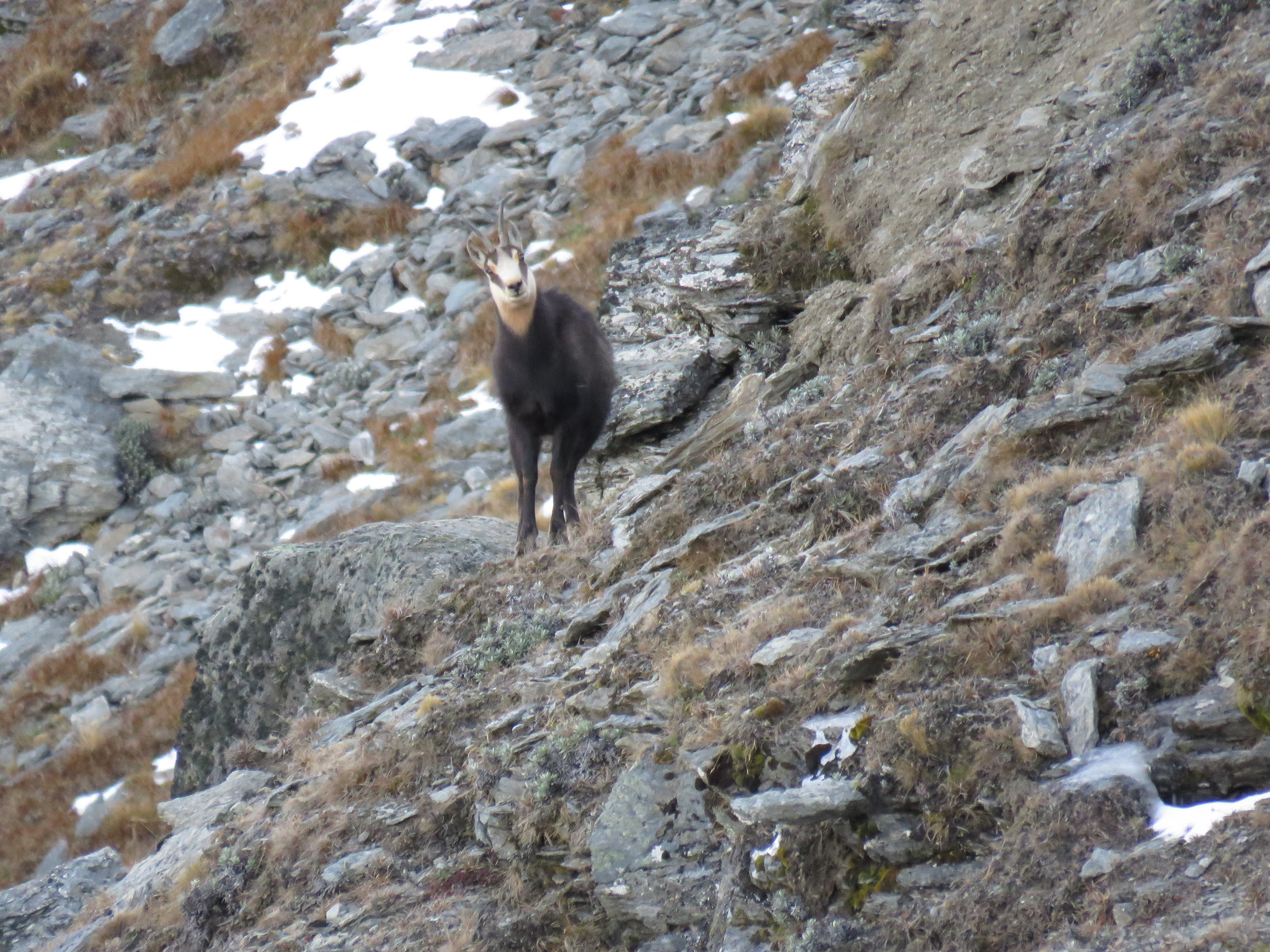 With less than an hour of light remaining we found ourselves in the area where I'd spotted the lone Chamois earlier in the day. Unfortunately the wind was all wrong and it was likely that the animal had already run a mile, but we decided to drop down a gut and peak over a steep lip and have a look anyway. There it was only 70 meters away still happily grazing and completely oblivious of our presence. A check through the binos and it actually looked like a buck with a bit of horn so Chief wasted no time settling in for quick dispatch before he smelled us and bolted.
Finally we found a Buck! 
By the time we got the full skin and a bit of meat removed it was close enough to dark so we climbed back to the closest flat ground to set up camp for the night. That's the beauty of back pack hunting, you just keep going until you're done and then camp. It's a method that's provided a lot of success for us in the past. The brunt of the Southerly had yet to arrive so we had to find a sheltered spot and prepare our tents for an onslaught of wind. This wasn't helped by the ground being frozen solid inhibiting the tent pegs from driving in more than an inch. A rock moving operation was required carting stones from a rubble slip and using them to pin the tent stays in place.
It was a rough and long night with very strong gusts knocking the tents around, with snow flurries blasting in sideways to build up on the fly and ropes, so sleep did not come easily, especially at the times when the tent was pinned down on my face! Luckily our gear held up and I was very thankful to have carried a thermal inflatable mat, plus a merino sleeping bag liner, isn't merino awesome! I think I already said that.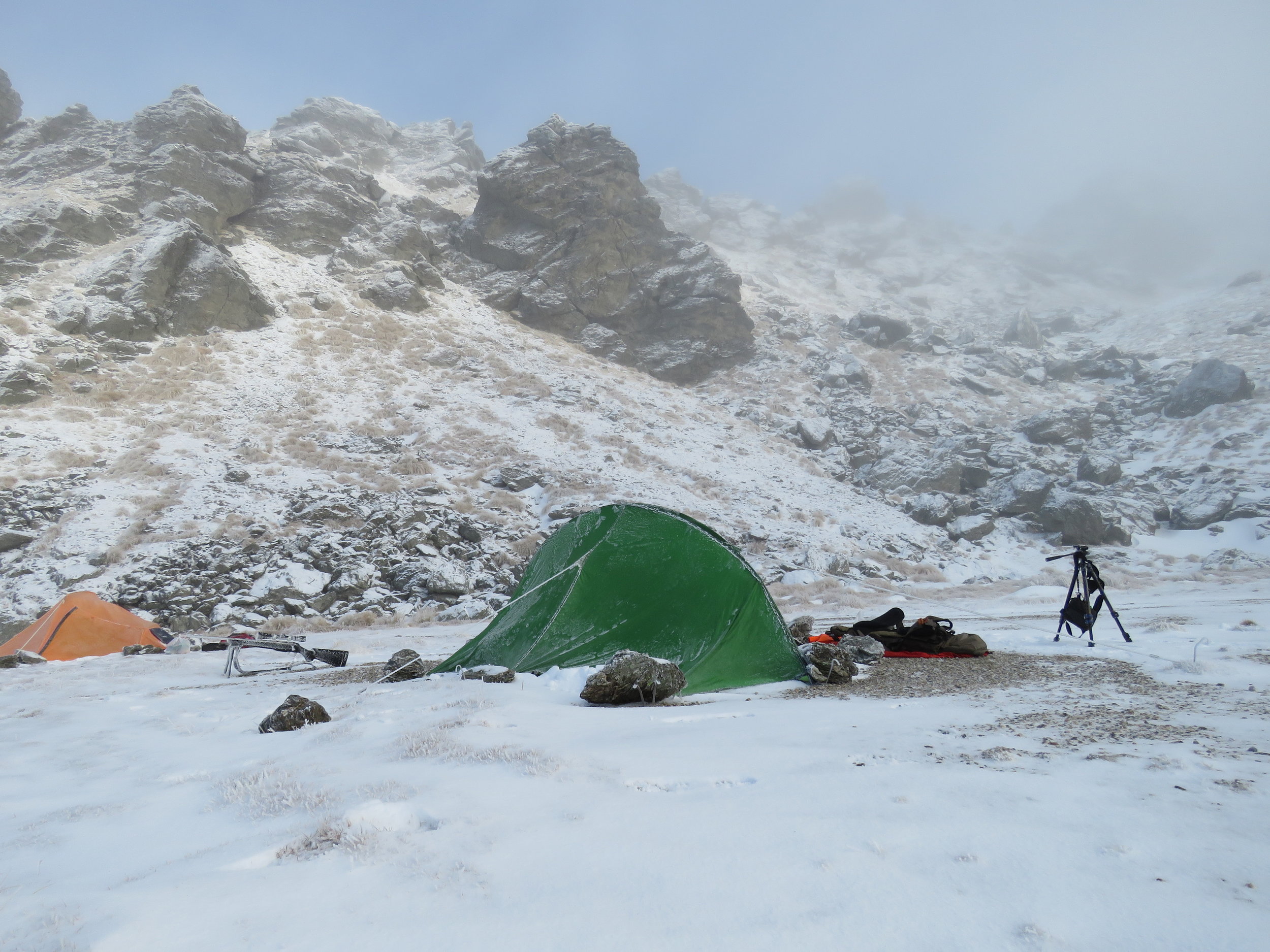 The morning light did not bring clear weather as it was supposed to and visibly was very limited and the wind still hitting in hard. Fresh white powder now covered over the frozen snow and ice from the previous dump making for some dangerous walking around on the rocks and steep faces, but we had no option but to pack up, gear up and get moving. We kept our eyes open for more chamois as we traversed into new country and climbed out through some nice looking basins but nothing was game enough to expose themselves to the harsh wind.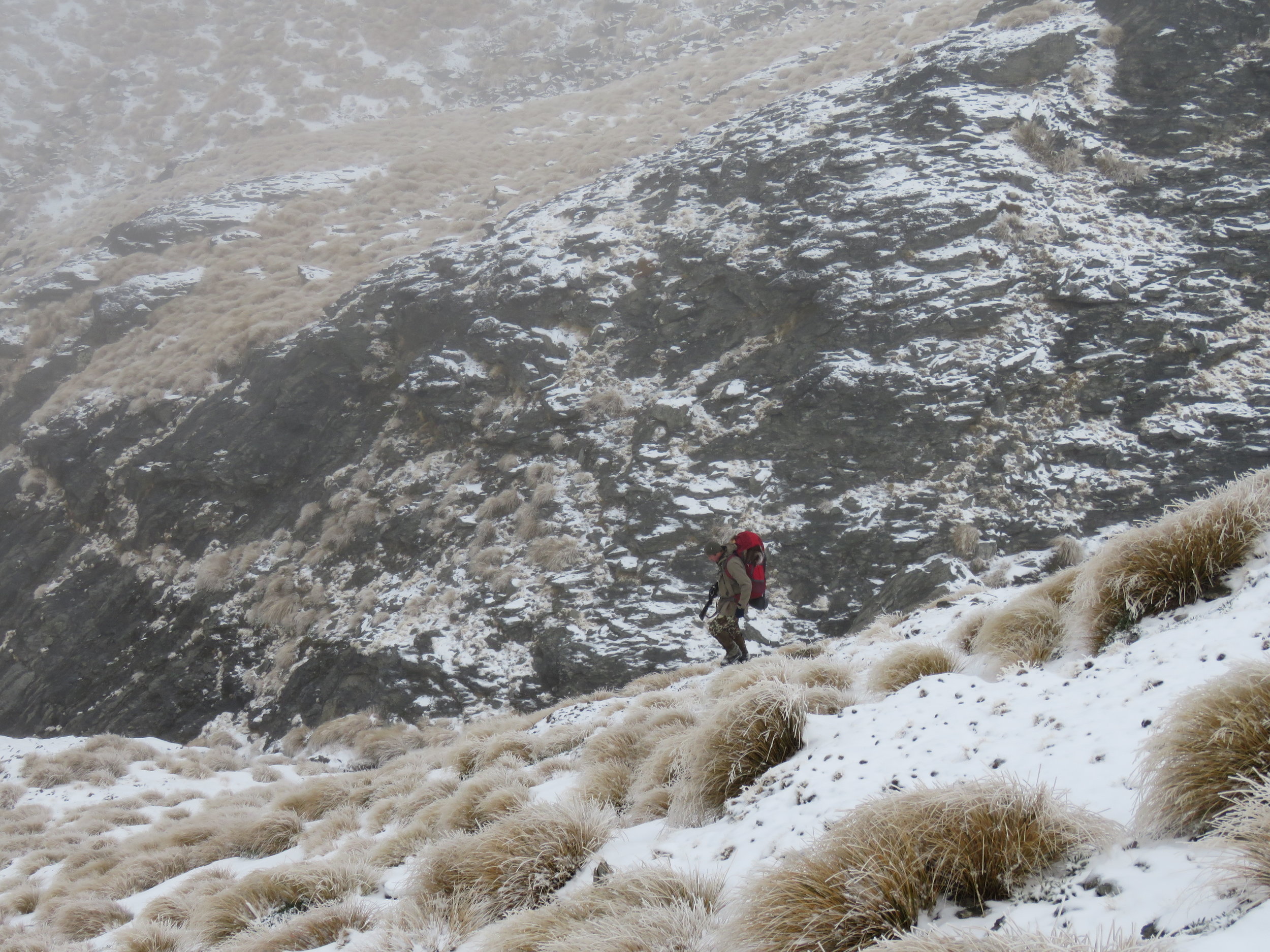 There was no way the chopper was going to be able to extract us off the mountain top as originally planned due to the heavy cloud and damp freezing conditions that cause the blades to ice up. A quick phone call off the top re set the pickup back at the Northern end and much lower down the range, so we had bit of a foot slog to make it out in time.
While crunching along through the snow on this exposed 1900 meter high ridge being blasted by foul weather I was amazed at how comfortable I was with the Firstlite stormtight jacket and Boundary over trousers doing a fantastic job. In fact it was quiet a cheery little stroll reflecting on a successful little short adventure and some quality time spent hanging out with one of our prettiest little game animals the Chamois.
Hopefully this little story offers a bit of inspiration to those of you that keep allowing time limits to be the excuse for not getting into the hill. Find a way to squeeze it in, plan the hunt well, go light and lean with good gear and hopefully things all fall into place nicely for you. Good luck.