Written by Chloe King
Over the last few years, Scotty and I have walked through the Kaweka Valleys along the Ngaruroro River, along the tops above the Ngaruroro River, to the east of the river and to the west of the river, and have always admired the Ngaruroro from afar.  We had started talking about packrafting as a way to access some of the lesser trekked areas of the backcountry, and after a few too many "It would be so cool if...."'s we decided to take the plunge and get ourselves some packrafts!
With so many Packraft companies now on the market, and so many different options, it can be a bit daunting knowing where to start.  Scotty and I did our research online via various blogs, packraft sites, kayaking sites and also social media.  After establishing that we wanted a 'normal' packraft (rather than ultra-light or other), it was just down to choosing a company.
Koaro was the most obvious choice for us, being made in New Zealand, it would for sure be able to handle the NZ rivers and climate.  Each Koaro packraft is handmade and customized, and designed specifically for NZ rivers and streams.  Even the name - Koaro - a whitebait species, notorious for its climbing ability, and negotiation of near vertical waterfalls, which resides in clear, fast flowing, cobble to boulder streams and rivers throughout Aotearoa – clearly resonates with what we wanted these packrafts to do! 
With Koaro boasting that the rafts are tough enough to handle one person plus a large (50kg) pack down fast flowing rivers, all while rolling up to the size of a two man tent and being light enough (1.5 - 3 kg) to carry in your backpack while exploring the backcountry for a couple of days, they really did meet our needs.  The specs like 210 Denier Nylon tubing with TPU coating on both sides, stitching and seam taping on both sides for extra durability, as well as 420 Denier Nylon flooring with TPU coating on both sides, back up what Koaro packrafts claim they can do.
Nylon is a synthetic material which is lightweight, strong with high abrasion resistance and high tear resistance.  The Denier is a metric used to describe what is essentially thickness or density. 
The TPU (Thermoplastic Polyurethane) coating improves the waterproofing of the nylon, increases resistance to abrasions, has very high tensile strength and allows the material to stand up longer to harsh weather and marine conditions all while remaining as light weight as possible. 
I also strongly believe that supporting local business is important in helping to grow our outdoor community, and truly believe that New Zealand has some of the most high-quality products on the market. 
The next step was choosing what specific packraft we wanted.  The Koaro packrafts start with a basic model, and from there you can custom build your raft.  Add-ons include; a spray deck and skirt, a storage zipper for internal storage, self-bailage, thigh straps, attachment points, and Koaro can also hand-make packrafts with lighter fabric for the ultralight freaks out there.  There is also a variety of different sizes to suit your specific needs.  
To be honest, we weren't 100% sure on what would suit us best, so we gave Sam (Koaro founder) a call to discuss our experience (minimal), plans (hunting with the packraft – mostly grade 2ish rivers), size (smallish + 25 kg dog) and also asked him multiple questions about what options would best suit our needs.  Sam was patient, knowledgeable and helpful, and even advised us that if we wanted to change anything after taking the rafts out (e.g. add on a spray skirt/internal tubing etc.) we could just send them back to him and he could retrofit our rafts with whatever we needed.  
We chose a size small boat with spray skirt for me, and a size large boat with open top and storage zipper for Scotty and Yuki.  We could choose our colours between a khaki green which is perfect for camoflague in the rivers, or a bright blue (not so great for camo, but such a cool colour!).  I've heard through the grapevine that Sam now has a new colour to choose from too!  My little (size small) blue boat, and Scotty's bigger (size large) green boat arrived within a week of talking with Sam – and this was even over the Christmas period! Only a couple of days later, we had loaded them into the chopper at heli-sika, ready for 6 days floating/rafting down the Ngaruroro river.  We were quite optimistic in choosing such a long first trip out on the rafts, but had full trust in the Koaro product. 
From the chopper, we were straight into the river – inflating the rafts was super easy with the inflation bag that comes with the raft.  Scotty loaded up his internal dry bags, and got his raft up and running within 5 minutes.  I wasn't far behind – it just took me a minute or two to sort myself out with the spray skirt (which packs down amazingly small).  You use the inflation bag to get the raft to 95% full before changing the valve to blow air in for the final blast.  Once you are on the water, the cold air can cause the raft to be less deflated (cos you know, science), so you may need to pull over and blow a few more breaths in.  On the flip side, remember that warm air expands, so DO NOT leave your raft in the sun without first letting some air out or you will end up with a popped raft!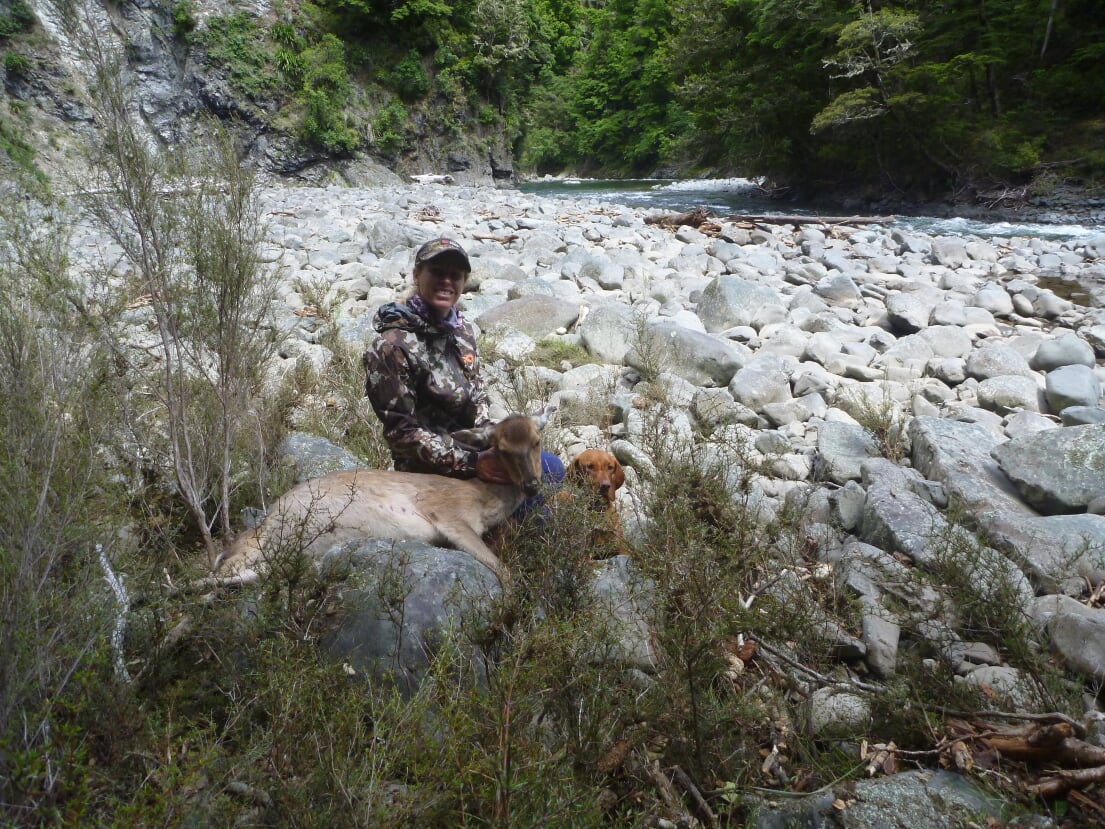 On the water, and tucked in tight to my raft (the detachable seat that comes with the raft is pretty comfy), I felt incredibly stable (when we went to Lake Rotoiti to test the rafts when we got them, I was practicing flipping the raft and found it hard to even go upside down!).  With a wide back end, snug tubes, plenty of room for a large pack tied to the top, it is a pretty good set up.  The Koaro raft is so easy to use, and we were floating down the river in no time. 
Scotty's large raft was carrying near to 50kgs of gear and food, plus the rifle and the dog.  Even fully loaded, his raft was stable (if not a little less responsive than mine – I blame the dog!)
The first true test came with the rapids, which in shallow water on the upper Ngaruroro could have been a complete disaster.  We could feel and hear the rocks on the bottom of the raft, and we both were wincing, thinking that a tear was imminent.  The bottoms held up phenomenally – and it took quite a few scraps of the rocks before we could actually believe how tear and rip resistant they actually were.  When we pulled up to the hut 6 hours later to check the bottoms, it was hard to even see a difference from brand new!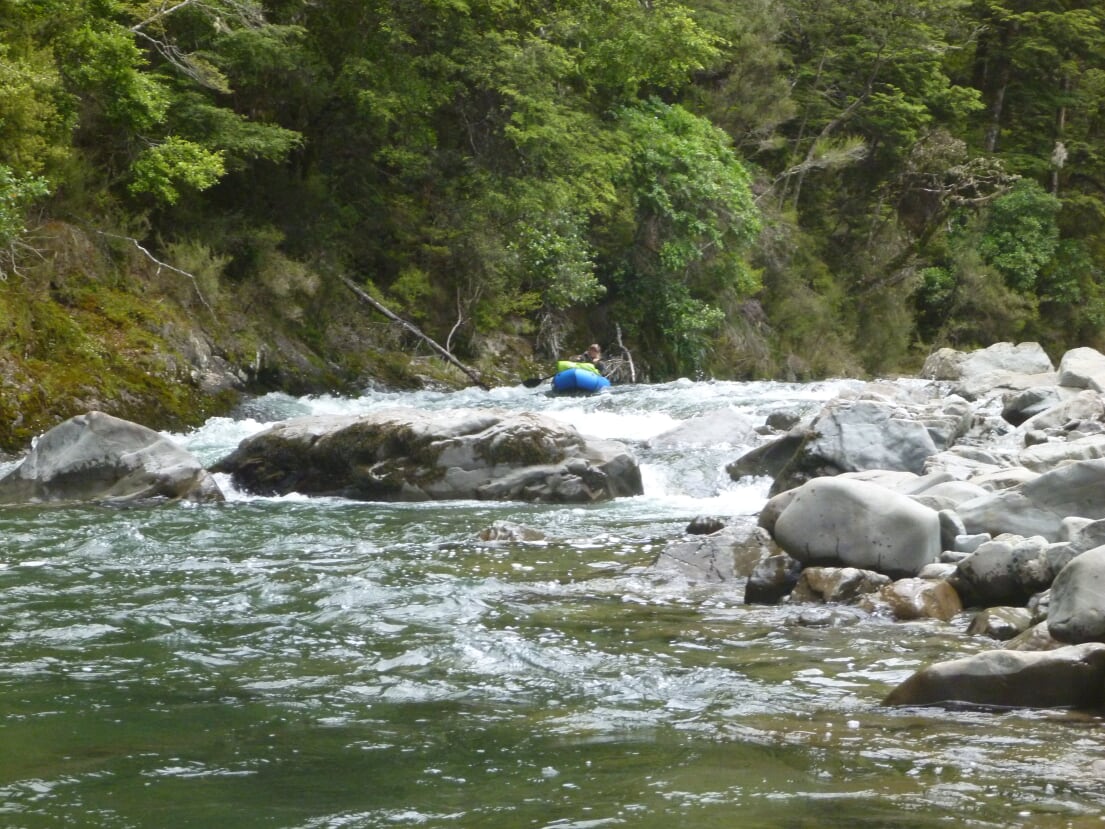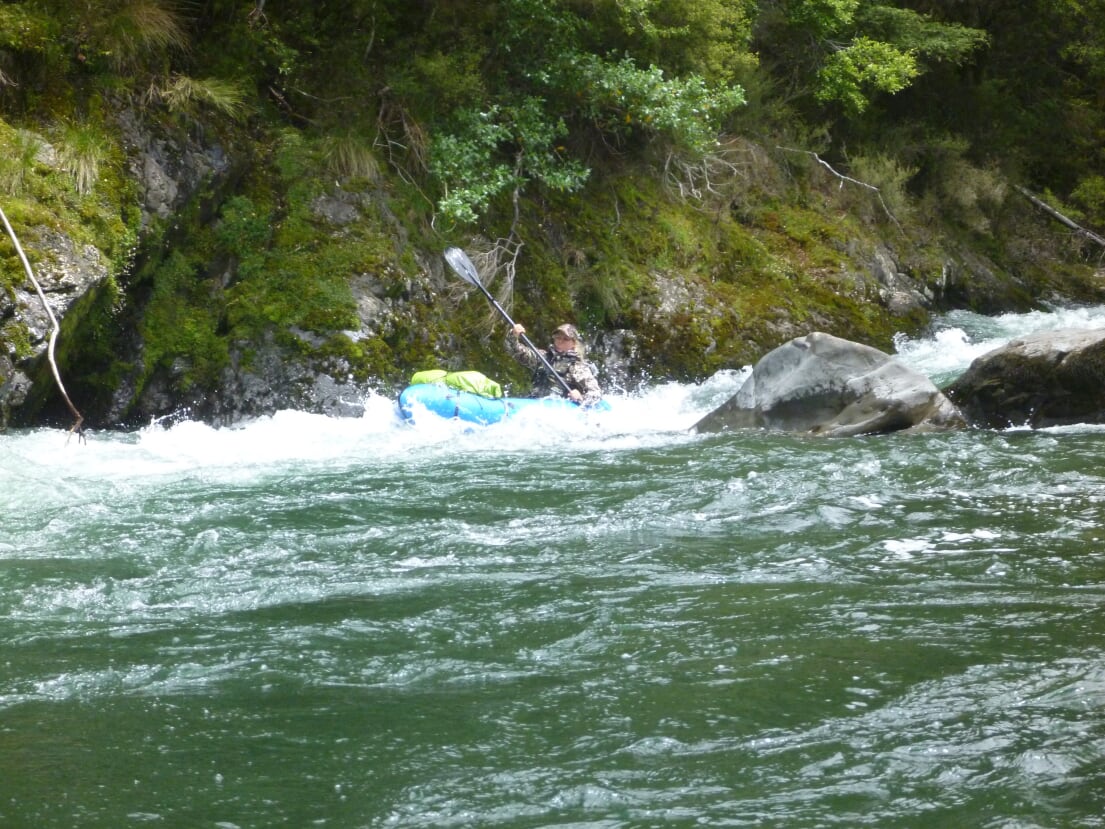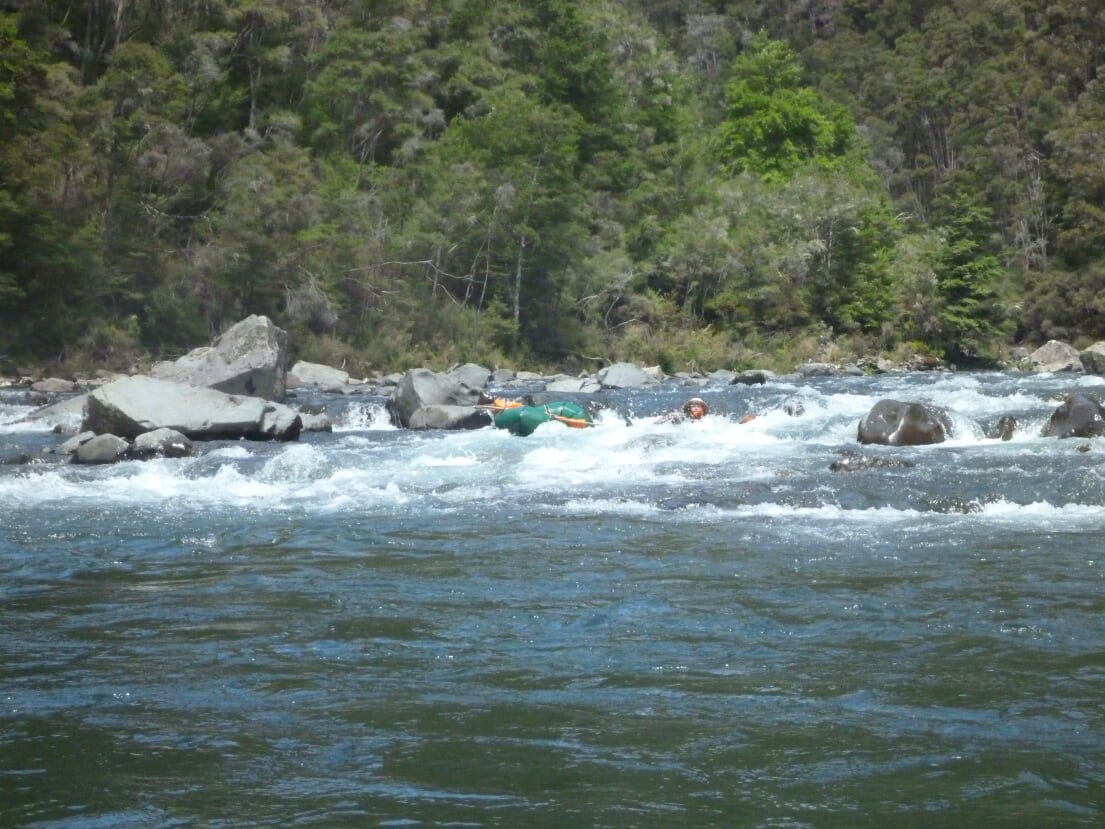 A big first day in the rafts was a lot of fun – no back pain or shoulder pain – they seem designed to be efficient and used over a period of time.  They handled the rapids, both small and rocky, and large and a bit gnarlier really well, and we both felt safe and secure the whole time, while still being able to use the raft the way we wanted to.  They were super easy to portage (we only had to do this once), and easy to deflate and carry up to the huts.  I am still amazed we did what we did without popping or tearing them, and it is a good feeling to fully trust your gear so that you can enjoy the adventure. 
A few minor things – my seat started a slow leak along a seam, but Sam is sending me a new one asap with no questions asked! Scotty is currently talking with Sam about getting a removable spray skirt, as with the dog and an open top, he took on a lot of water.  A self bailer may have been an option, but we also want to do trips without the dog. 
All in all, I cannot recommend Koaro Rafts enough – they are such a great product, designed and custom made right here in New Zealand, and have opened up a whole new world of possibilities!