Scarpa is a well Known Italian boot maker that have been producing quality footwear since the 1930s. I picked a pair of their 'Grand Dru GTX' nearly 5 months ago and have not taken them off since.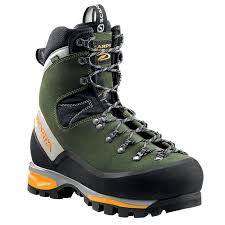 The Grand Dru is a classic mountaineering boot based off Scarpa's ever popular Mont Blanc boot. The main difference being insulation and a tighter cuff (built in gaiter) on the Mont Blanc.
The boot is made with 3mm Perwanger Suede leather upper, which is very durable and water resistant. A full Gore Tex lining makes this a very water tight boot. A full rand protects the lower boot and the Vibram 'total traction' sole completes this stiff shanked boot.
My go to for the last couple of years has been the Asolo Granite, which is in a very similar class. Comparing the two, the main difference is weight (the Scarpas lighter) and toe box sizing. The Asolos have a narrow toe design which is great for technical climbing but can be a bit cramped depending on your foot shape, the Scarpas have a much wider foot bed which is more comfortable but you do loose some finer 'feel' when climbing. I found I wear a half size smaller with than Scarpas than with the Asolos because of the wider toe area. This is great for people with wider feet, which most Kiwis do.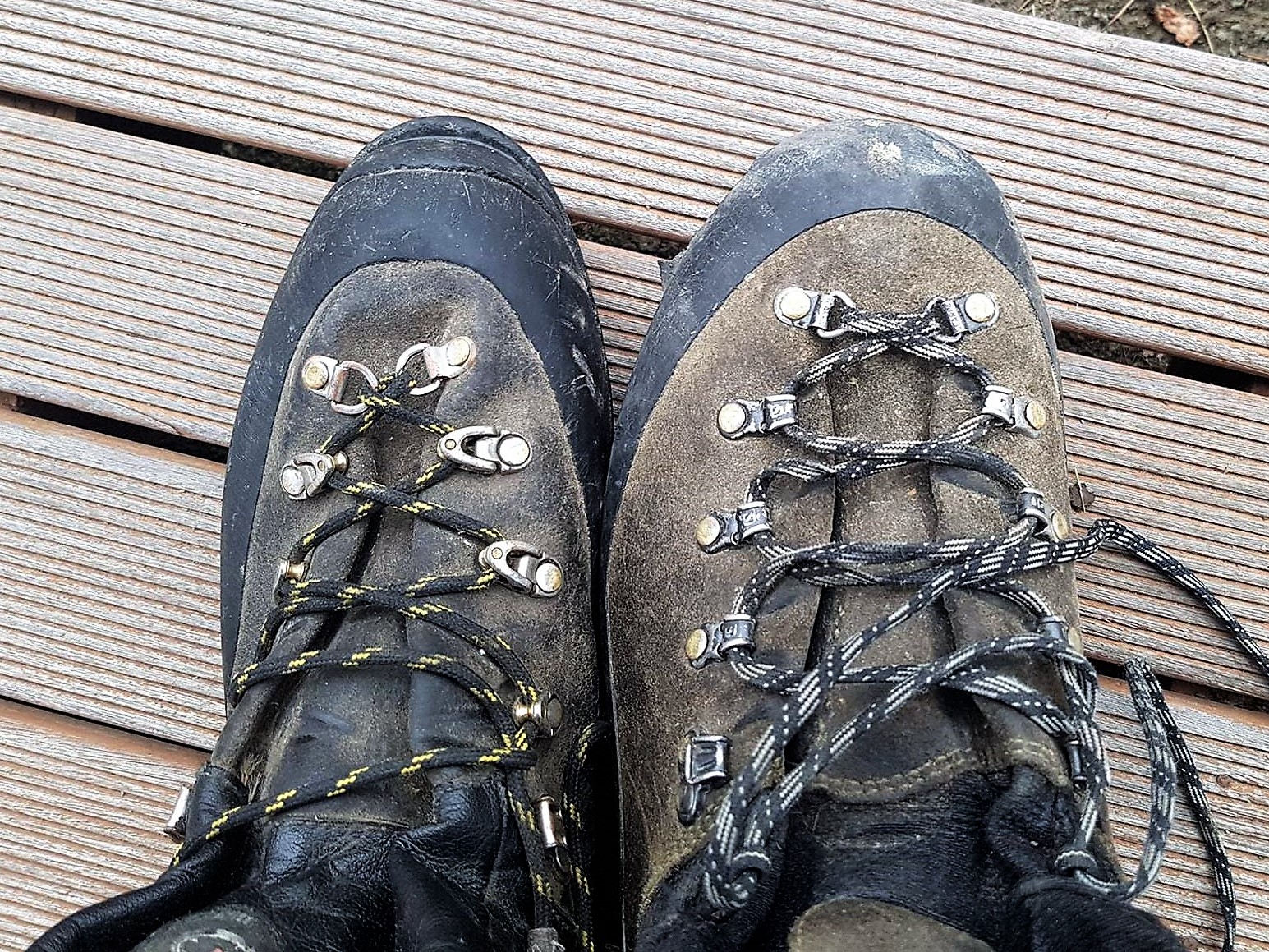 The wider last of the Grand Dru is pretty obvious on the right 
I picked these boots up on the way to my first guided hunt of the year and wore them straight out of the box on a week-long Tahr and Chamois hunt. I had no issues wearing these straight out of the box and these have been the only boot I have worn for my entire guiding season.
I am used to wearing a stiffer boot and find they have a lot of advantages in steep country such as better climbing ability and protection for your feet and I find them more efficient walking uphill than a 'softer' boot. The down side of full and 3/4 shank boots is on the flat country where they can cause your foot to 'slap' the ground and create foot soreness, you also lose some feel when bush stalking. As noted above the fit is quite roomy and after a few hunts I found I need to wear two pairs of socks to get the fit right. I generally prefer having the room to do this, as two pairs of socks can certainly help with any friction issues and the cold of a mid-winter Tahr hunt!
The 'Total Traction' Vibram sole is noticeably 'sticky'. The sole seems quite soft and tactile which grips better than others I've used on both rock and grassy slopes. This does come with a trade-off though and I have already noticed some chunks out of the sole and wear after only a few months of hard use. The Grand Dru's are around an inch higher than my older boots and this I found was quite noticeable when crossing creeks. They are a very water tight boot and have stayed that way since day one. I did get these boots wet a couple of times during the season crossing rivers and found they dried much faster than expected, heavier lined mountain boots can soak up a lot of water and take days to dry, but the Grand Dru's seemed to dry quite quickly which is great bonus as wet feet can and do happen even with waterproof boots. I found the Grand Drus had good feel when climbing and although having a wider toe than my Asolos, I still found I had good ability to climb on my toes. This season mostly has been quite dry and the lack of snow and ice meant I have not worn these boots with crampons but they are semi-automatic crampon capable.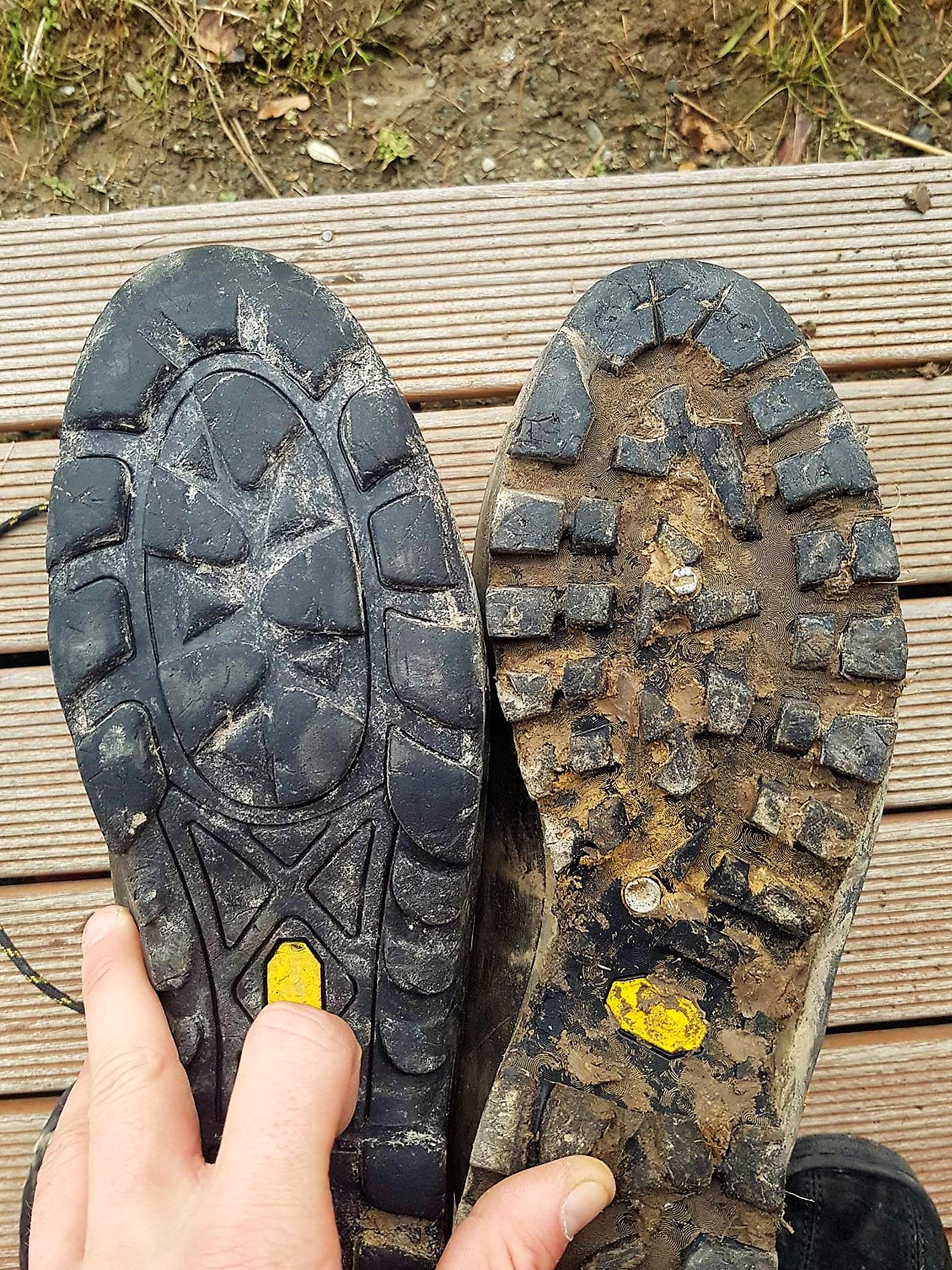 Pros
Comfort
Wide foot bed
High ankle support
Very waterproof
Sticky sole with good traction
light for this class of boot
Cons
Sticky sole does not seem as durable and tough as some other soles
Cost (about average price for this class of boot)
These are a stiff mountain boot, no doubt about that. If you are hunting bush and lower country I would not recommend these. But if you are used to a stiffer boot and spend most of your time hunting Tahr and Chamois this boot is definitely worth a look.